Choosing Competition Jewellery (jewelry) : Top Tips For Bikini & Figure Competitors
Selecting the right competition jewellery for your bikini competition can be an easy way to make those final touches to creating or tweaking that 'overall package' that the judges want to see from any bikini, figure or fitness competitor.
In this blog, we'll be taking you through everything you need to know when it comes to competition jewellery specifically for bodybuilding shows. Whether you should pick jewellery according to the federation, your bikini, your connectors, your hair length and much more to help you make the right decisions.
Remember, this blog is not 'the rule', as when it comes to jewellery for the stage, there are no rules as such! But this should give you some guidance and inspiration about the general trends in the competing world and what you could select for your next show.
Most Popular?

You will most often see competitors with a 4-12 diamante row bracelet and a 3-row ring on show day. These pieces are usually more blocky and chunky, which work great for reflecting the light to make you stand out on stage. Whether you are a first-time competitor or an experienced competitor, you should look to have these two pieces as staples in your competition jewellery collection, being stretchy in design they are highly likely to fit your wrists and fingers to avoid any gappy areas too which many bikini competitors prefer on stage.
We always advise selecting diamante, silver, crystal competition jewellery for your bikini competition. WHY? it's classy, stylish, and it avoids you having to pay out for additional jewellery if you decide to order a different coloured bikini suit in the future. Furthermore, you can mix and match jewellery with ease, always a bonus when you want to switch things up last minute.
Long hair?

If you are a competitor who has long hair, you can pretty much get away with most jewellery styles. With your long hair, long and sparkling earrings can perfect when doing 'that hair flick'.
Here are some examples of some bikini competitors with long hair and what earrings they choose.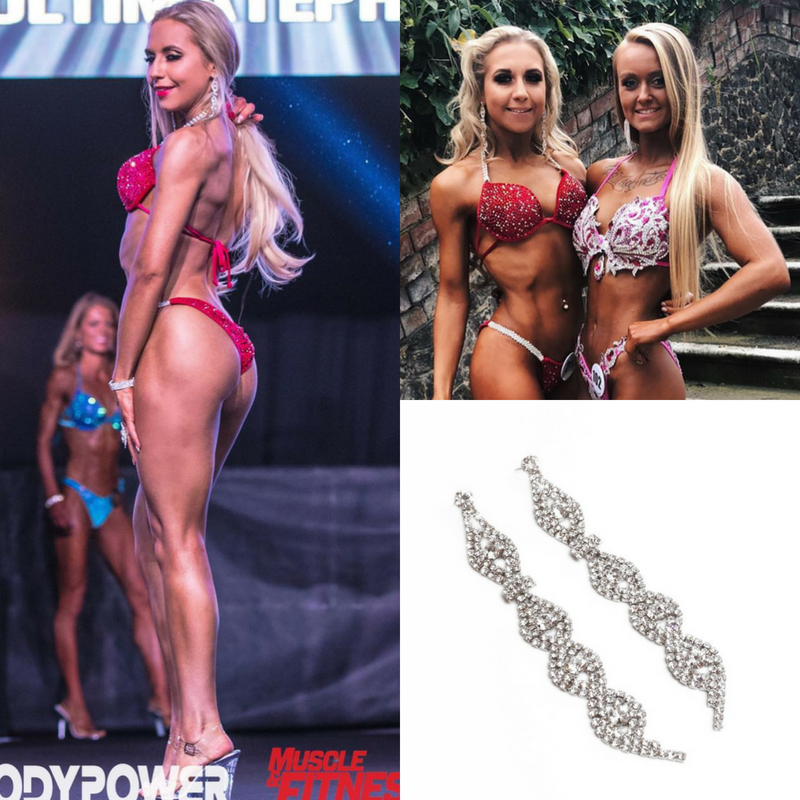 Wearing our Sophie earrings at the UKUP Bodypower and Pure Elite Margate shows.
Short hair?
Many competitors choose slightly shorter pieced earrings to ensure that their earrings don't 'swamp' their facial features and overall look. It's all about getting the right balance of sparkle to hair ratio so that your earrings don't overpower the look.
Here are some examples of some bikini competitors with short hair and what earrings they choose.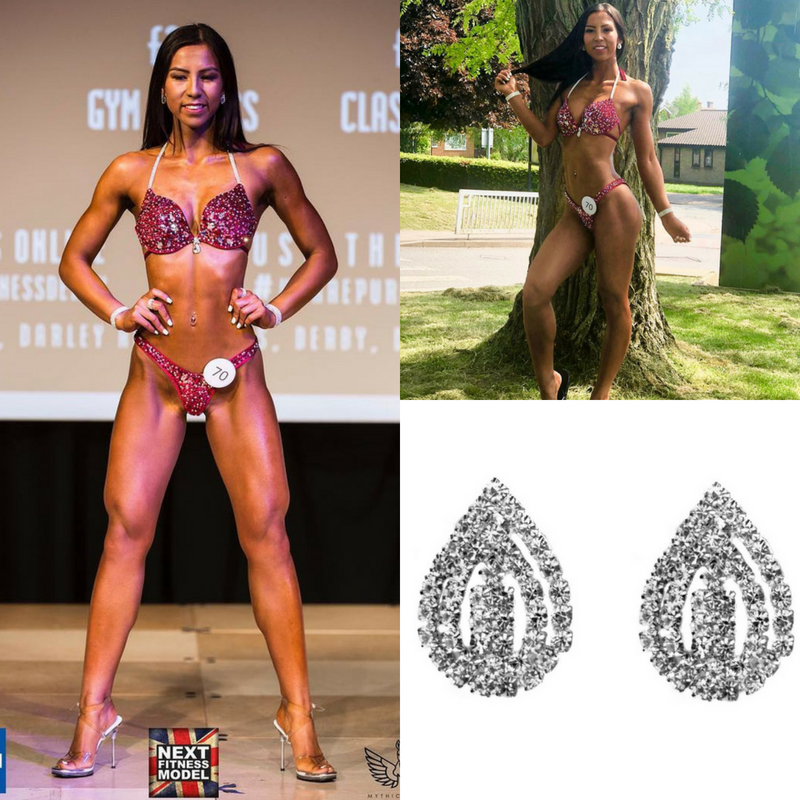 Pure Elite & Next Fitness Model U Pro looking stunning in our Tia Earrings.
Gorgeous figure competitor also wearing our Tia Earrings at the UKUP Bodypower Figure Show.
Looking to match your connectors to jewellery?

This is a great way to bring all your package together. You are judged on your overall package, and although you are not outright judged on your bikini, jewellery or posing shoes, choosing the right pieces are essential for presenting your best package and feeling confident on stage.
Federation Styles and Competiton Jewellery
No federation typically has limitations or requirements in relation to what competition jewellery you have. However, there are slight trends and styles that can be found depending on the type of federation.
Bodybuilding Style Federations:
Examples: PCA, UKUP, UKBFF, 2 Bros Pro, NPC, Muscle Contest Ireland, RIBBF etc
Less is more, judged more on your physique than the 'overall package'. We would advise selecting more minimalist, bold striking pieces of jewelry.
Fitness Model & Fashion Style Federations:
Examples: Pure Elite, Bodypower Model Search, Next Fitness Model, Fitness Model Comps, WBFMA, Miami Pro, WBFF, Glifting Girls
This is usually when you see more creative and extravagant choices when it comes to competition jewellery and the overall package due to these federations allowing more expression of personality and style. However, with this being said, you can still stay understated like above, what's most important is what you feel your best in and what look you want to bring to the stage.
KEY ADVICE FOR ANY BIKINI, FIGURE OR FITNESS COMPETITOR
You should have at least one pair of earrings, one bracelet and one ring in your show day bikini bag.
Your choice of diamante competition jewellery for your next bodybuilding comp should look to enhance your overall package, but NOT distract any attention away from the physique.
Though we all love a bit of sparkle, remember that this is a physique show, not a jewellery show. The judges are predominantly looking at your physique and your competition jewellery alone does not dictate 1st to 2nd place.
If you need to bounce some ideas around or looking for tailored advice: don't hesitate to slide into my DM's on Instagram (LINK) or alternatively you can email info@kompak.store
Feel inspired? Take a look at our full range of competition jewellery here.