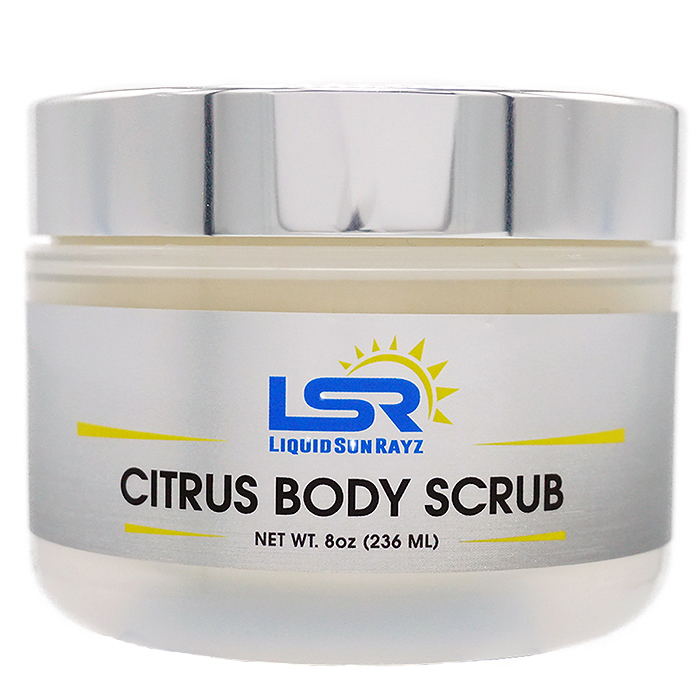 LSR Citrus Body Scrub
Correct skin preparation is important if you want to create the perfect tan. Liquid Sun Rayz Citrus Body Scrub is a great exfoliating cream which will clear away rough skin and dead skin cells. After shaving, apply Liquid Sun Rayz Citrus Body Scrub to wet skin to help smooth your skin. This will help application of the Competition Bronzer and create a more even, non-patchy tan.
Liquid Sun Rayz Citrus Body Scrub is also an excellent exfoliator for use off-season, to maintain smooth skin and may help in the treatment of acne and rough skin.
Ingredients
Pure cane sugar sucrose, glycine soja (soybean) oil, cocos nucifera (coconut oil), mangifera indica (mango) seed oil, cetearyl alcohol, olea europaea (olive) fruit oil, butyrospermum parkii (shea) butter, citrus (citrus aurantium) fruit powder, macrocarpon (cranberry) seed, caprylic / capric triglyceride, polysorbate 60, tocopheryl acetate (vitamin E), phenoxyethanol, fragrance parfum).
Directions
Apply a small amount to hands and gently massage. Rinse well with warm water and pat dry. Finish my massaging hands to help natural oils penetrate into the skin.